SKYTREX!!
!
Located at the serene
Bukit Cerakah
in Shah Alam.
i've tried the BIG THRILL (one of the package)
,
the
Big Thrill
will take about 1 hour to complete but often the whole activity will take about
3 hours
because people get jammed in the midst of completing the task. HAHA

rm40

for adults. we were like real

monkeys!!~

There are lockers and recycle gloves provided. If you prefer new gloves, it is available for sale at

RM5

. You can also rent bottle strap to carry your drink while trekking up high in the sky.
A
ll other gears are provided (

harness, pulley, karabiner

).
Before proceeding to the Big Thrill or Extreme Challenge, all Skytrekers has to go through simple elaborated training at 3-4 meters high on how to use ropes course gears. so extreme!! at the starting point, i was a bit nervous to let myself down from the platform. u need a push within yourself in order to do the flying fox stunt as the platform is very high plus you have to do all of them on your own!!! anD!! i despise the part which you need to climb up the stairs to reach the top of the platform...it slowed me down and it was so tiring.. (the suffering part, haha)
there's also
KIDS CHALLENGE
(rm30)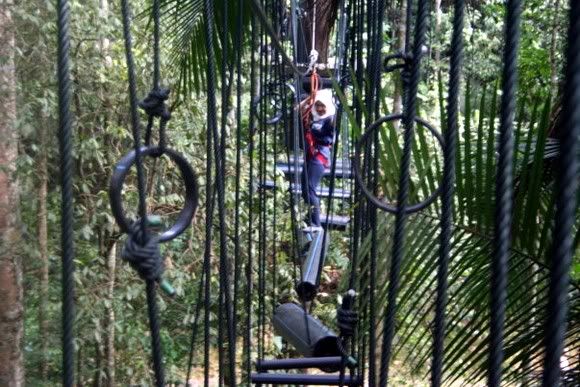 Mini Tarzan swing causes blockage because it requires more strength and the correct skill to move to the next canopy.
katherine, brian & me - we are superhumans
cropped pic of me (haha dont want you to see my lower body in the harness - will be too revealing ! :P)
with one of my junior, rose
a species of snake found here
p/s:
Most of the time you'll find yourself admiring the green forest while waiting for the tasks.

AND

please book the

earliest schedule

to avoid dreadful waiting time. much tiring than normal jungle trekking. you need to be

medically fit :)
most of us are mountaineers, and it was quite challenging than ordinary hiking.. a new experience to us

very fun and spectaculaR!!